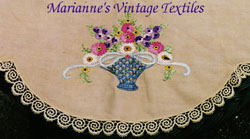 Click on a category to see what's currently available
Lots more stuff in stock
Listing more and updating this spring.
I accept check, money order or Visa and MasterCard via
Shipping based on weight and your zipcode. Return policy: 10 day in original packing box, refund sales price only.
Click here to visit my homepage:



Here's another great shop to visit on the web
Easy Street Antiques
Specializing in antique and vintage textiles, including tablecloths and
other linens, hankies, scarves, lace, and fabric.
AtoZee - the collector's website
Whatever you collect, AtoZee will make your collecting more pleasurable and profitable.